Countless small guava-filled boats are floating. Guavas are being traded at wholesale prices in boats. Wholesalers are coming from far away in boats, buying guavas and leaving. Vendors are going to the wholesalers' boats with green-yellow raw-ripe guavas. It's like a green-yellow game in a water city. Such a scene can be seen at Bhimruli Guava Market. This water market has been formed at the mouth of small and big canals on the border of Jhalokati and Pirojpur districts. The market has been named 'Bhimruli Bazar' after the local village Bhimruli.
Such a large floating market is not seen anywhere else in the country. In the local language, this market is called 'Goiar Hat'. Standing on the bridge over the canal in the heart of Bhimruli Bazar, the entire market can be seen through the eyes of a bird. This is a great place to take some pictures. From here you can see the busy scene of the guava-dependent town. Some are carrying boats to distant markets for retail purposes. Someone is making arrangements for guava export. Someone is providing the boat. Farmers are buying boats from one wholesaler to another in the hope of getting two rupees more. This is a reflection of the truly unique Bengal painted on a watercolor canvas.
The work of the guava growers started at the Bhimruli market fair around 9 am and very early in the morning to provide the supplies to the market. They appear in the garden with Naokonda (palm boat) before the sun shines. As soon as there is a little light in the sky, they go to the market with guava.
Boats carrying guavas from innumerable guava orchards crowd the Bhimruli market. The trading exercise is between the wholesaler-storekeeper and the seller. This karma yajna lasts from morning to evening. This guava goes to every big city including Dhaka through wholesaler. Wholesalers from different parts of the country collect guavas from this market. Guava produced in this region is also being exported abroad.
According to locals, the area has one to ten acres of orchards. Among them, guavas from Krittipasha, Bhimruli, Shatdaskathi, Khajura, Mirakathi, Dumuria, Jagdishpur, Khodrapara, Poshanda, Himanandakathi, Betra and Atghar Kuriana villages are sold more in this market.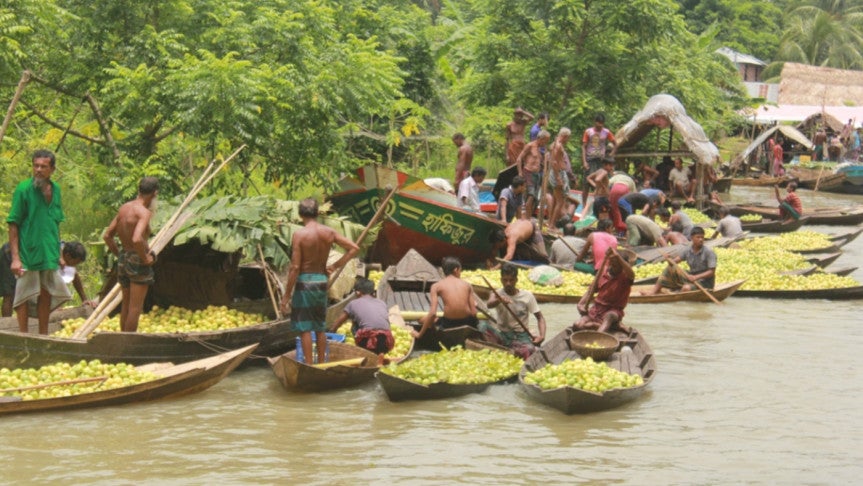 Countless visitors come from far and wide to see this market with their own eyes. There is an opportunity to see the floating market as well as enjoy the green nature here. There are some zamindarbari, Gutia mosque, Durgasagar of Madhab Raja and several other tourist destinations in this region. That is why travelers are rushing to this wonderful place with people close to them and people of mind.