Introduction
Guinter Wilhelm Grass was born on October 16, 1926, in the city of Danzig in the Weimar Republic, now known as Gdańsk, Poland. The city is quite old, and diverse in the coexistence of different peoples. And this is where he spent his childhood and adolescence. In almost all of his writings, a piece of orange appears as one of the memories of this changed city.
Die Blechtrommel (1959), Katz und Maus (1961), and Hundejahre (1963) are called the Dantesig trilogy. Although he names almost all his other books, his first novel 'Tiner Dhak' has been published in our Dhaka for a long time. The book 'Mein Jahrhundert' (1999), published in the last year of the twentieth century, the year he was awarded the Nobel Prize, will be translated into Bengali.
The first volume of the autobiographical trilogy, Beim Häuten der Zwiebel, was published in 2006 and caused quite a stir when the book was first published, as it was the first time in the book that he officially acknowledged that he was an auxiliary to the Air Force (Luftwaffenhelfer) during World War II. Not only was he a volunteer for the party, but as a 16-year-old nouveau riche, he was wounded and captured by U.S. forces while fighting for the Waffen-SS, a Nazi auxiliary force, and was held captive for almost a year (May 1945-April 1948). Finally get rid of.
There is much debate as to why it took so long 70 years to reveal this truth of the arrogant Grass.
Grass is considered one of the most important drivers of the post-World War II literary movement in Germany. The 'Vergangenheitsbewältigung' movement, which deals with the past, sheds light on various aspects of the war-torn German country, including political, social, cultural and psychological.
A longtime supporter of the Social Democratic Party of Germany (SPD) and a fierce leftist critic, the author came to the end of his life writing a poem entitled 'What to say' / Was gesagt werden muss (2012). The prose poem, written in a succinct style, drew mixed reactions from various quarters, urging Germany to secretly send a submarine capable of carrying a nuclear bomb to Israel, which could strike Iran, a Middle Eastern country interested in acquiring nuclear power. Among many, Salimullah Khan also translated it into Bengali.
Grass was a poet, playwright, novelist, sculptor and graphic designer. This great writer, a political activist and pacifist, was in Calcutta for six months in the '70s. He has also visited Bangladesh once or twice.
When this great writer, a contemporary of our country's famous poet Shamsur Rahman (1929-2007), laid down his body in April 2015, he was an eighty-year-old personality. He was buried in the family cemetery in L জার্মbeck, Germany.
Interview
Guenter Grass and Luke Persevalo met at the invitation of DISE (DIE ZEIT) to discuss Peresvalo's 'Tin Dhak' and recent dramas. Christoph Jimenez.
Good Friday of 2015. Growing up in Catholic education but at one point losing his religious faith to Guinness Grass but this day is nothing more than a normal working day like the other ten days. When we started talking at his house in Blendorf, it was 3 pm.
The occasion was a staging of the 'Tin Cover' by Belgian presenter Luke Peresvalo Grass. Only 7 days ago, the maharat ceremony ended at the Thalia Natmandir in Hamburg. At the end of the play, the audience greeted him with loud applause and cheers when he came to the stage sitting in the front row.
Whether the novel falls under the stage at all, what happens when the novel is staged, and how he evaluates the state of contemporary stage drama, he is interested in discussing all these with Perseval at the invitation of Disite. During the two-hour discussion, Pipe's hand was as aggressive and inflexible as ever. This is his latest interview, which is similar to the will of Nobel Laureate Grass as a playwright.
DISIT: Mr. Grass, a few days ago you saw the masterpiece of your novel 'Tiner Dhake' which was staged by Luke Percival. How do you feel?
Guinter Grass: I like the human experience as much as possible. During the staging, I forgot that I am the author of this novel. It was a completely independent work, it would be wrong to compare it to an epic book.
You have to do everything in a limited time, on the other hand you have to be able to give a completely different kind of excitement, that's the situation, so I think the theater is still in a boxed era (Guckkastenbühne). I like the memory of the old Oscars and the beating of the drums again after many days. I also remember the voice of the young Oscar floating in the background, which I wanted to show with a little bit of controversial dialogue with the old Oscar. Okay, what do you think, Peresvalo?
Luke Persevalo: It went one way. We basically thought of a picture reminiscent of the past. Mr. Grass, in this case my parents, as old as you, were a direct example of what I knew.
They grew up in the vicinity of the port of Antwerp. This place is called Little Berlin, because the city was crushed by German V1 and V2 rockets. From then on my mother started behaving well at the small Oscars. As long as he lived, in the light of an unwavering judgment, he became disgusted with life and the world, distancing himself from everything. The fact that the character of the book is constantly thinking about it also moved me a lot. There is no dialogue here. So it was a huge challenge for the audience to find out what was going on in the head of a very quiet person.
Grass: After our first meeting, I thought, no, no worries, my book is in the hands of a worthy man like Mr. Persevalo. Because, talking to him, it seemed to me that he didn't want to dramatize just the exciting parts of the novel over and over again. Take, for example, the sight of a monkey on a horse's head. The scene caused quite a stir after the book was published, with a strong reaction. Some people even stopped eating monkeys, even though they knew it was about dead bodies, not monkeys. This uncomfortable part of the screenplay has been discarded, so it can be said that the screenplay is a substantial presentation of the whole novel.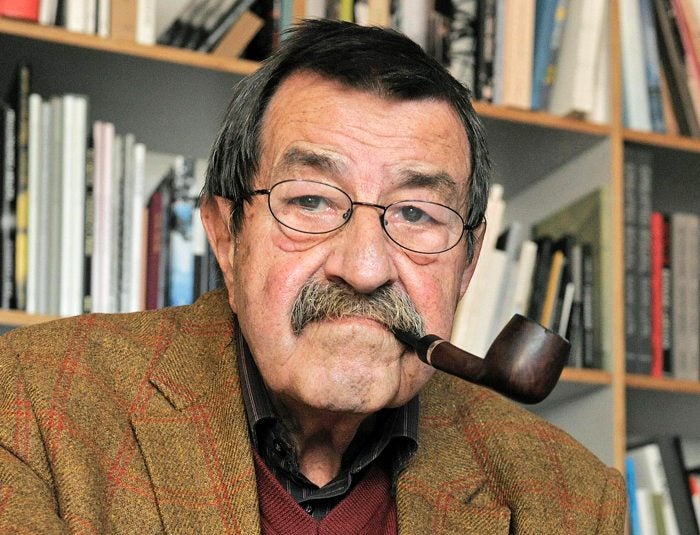 Site: Mr. Persevalo, all in all, why did you choose this book? But once you said that the book was not so easy for you …
PERSEVALO: The plan came from my team of directors and stage men. On the occasion of the 70th anniversary of World War II, they expressed interest in doing something. The subject matter of this book is but not like a classic drama. If there is no conflict, the stage will not freeze. We wanted to interpret what the child says in the book, not illustrate. And this may have created a contradiction between the weaving and the screenplay of the original novel. Our screenplay is not an epic drama, but a comprehensive summary of the original book. By which we mean, look at this! Look! How cruel the heretics were to all those helpless children!
Site: Was contact with the author a moderator or a hindrance for you while working on this play?
PERSEVALO: It was very encouraging for me. Mr. Grass's openness and curiosity moved me greatly. Someone told me that he would tell you everything that was important to him, but he did not tell me anything about how to dramatize it. In fact, I did not have a clear idea about this until the beginning of the exercise. Drama management is a lot like sailing a ship without a compass. The sailor may have some idea which way the answer is, but in fact he does not know for sure which way the answer is.
Grass: Leaving something like this is a risk for the writer but it always remains. Which scenes are inseparable in my opinion, but that's what I said. But in such projects, many statements are often omitted, which sometimes puts the whole story at risk.
Site: You have more and more prose screenplays. Have you ever wondered what happens to your writing when it falls into the hands of playwrights?
Grass: No. The reason is that whenever a playwright submitted a summary to screen my prose, I would pay close attention to how my writing was used, when I saw that he wanted to see my writing as just a piece of stone, but I I would not say directly. In this way I deprived myself of the glory of staging.
The video annoys me a lot
Site:  Your latest full-length drama 'Davor' was released in 1989. For the first time in this book, you said in an instructive speech: 'At the request of the author, the facilitators will refrain from using any film-clips, adding scenes to the hotel and using unnecessary mass scenes. Because I think these things should be shown, which the author is not inclined to show.
Grass: The next time we called it 'Regie-Theater', it started. And I did not want to send a booklet to any aspiring and very strong stage manager with the rules and regulations for staging a play with any of my plays. I have written some things in your language in my own strength, and I wanted to assimilate the essence of it all. On the whole, it was not decisive against authoritarian drama, I am not a principled person at all.
But yes, when there is no other way but to shorten a play or various professional questions arise, the playwrights will decide on all the matters which the playwright cannot think of in advance. The purpose of this warning is that, whatever it is, everything must be done respectfully.
Site : Mr. Persevalo, do you think you have shown him much respect?
PERSEVALO : I probably have no problem with that. Personally I am not so much a fan of video. It hurts my eyes. This is the thing to design in such a way that you have to look ahead and digest all the horrors. Only when we close our eyes and become accustomed to hearing for the first time will we be able to match ourselves perfectly.
My stages are mostly empty. You only see people who are talking. Through art, on stage, we want to make a connection with other people, we want to make a recurring affair. It's an intense upheaval that we all have. It emerges in the concentration, which we usually do in the case of reading. I don't think people need a video at all to do that, the video thing bothers me.
Site : Where is the application to stage the novel?
Persevalo : I'm always looking for good spices. See I am a Belgian but work in Germany. I have to think about how people can win the hearts of Germans. There is no stage without emotion. The knots on stage make me interested only when I see them describing something in person.
Site : But it is still seen every now and then that the stage is crammed with the screenplay of the novel. It doesn't seem like much is being written for a live stage with touching material.
PERSEVALO : I think this observation is wrong. People no longer work only with drama casting. Our previous generation has grown up with literature, but my generation has grown up with eye-popping movies, television shows. I think there is a lot to be done to keep pace with the evolution of the medium (Medien) since the invention of photography (Fotografie) in the actual proposal. But in the meantime, the medium has changed the art of art a lot, it has changed the way we see theater, it has changed the decoding of our various signals, it has also changed the deck of how we listen to rumors.
Shakespeare, however, has always given a summary of what has already happened at the beginning of each figure. Because his audience was illiterate, he had to re-explain in a childish way what they had seen.
Nowadays our brain has to deal with about one million pictures (Bilder) daily. Overall we think quite a bit.
Grass : Everything is fine. Still, I ask myself, out of devotion to Shakespeare's work, why is it that his plays are so good, even though he doesn't add anything to Hyena Mueller's every now and then? All these languages ​​are nothing but qualities. In the hands of German romantics, Shakespeare was so sweetly translated that some fanatics began to say that he was, in fact, a German!
As you said, you find all the spices that will reach the heart of the people, the same is true of the writers.
I lost my hometown of Danzig in the terrible German war. As a young writer, it took me a while to realize that I was the most attentive person who could write with a variety of gems in his own language. But that is possible only if I can pray for all that I have lost unknowingly. You will see this wound in all my books as the basis of writing. And this issue is easily seen in your visuals.
But I think imagining what is described in words is a challenge for the audience, a matter of pressure.